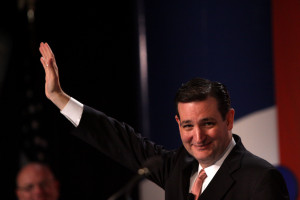 Elections are like Christmas for journalists and news lovers, and we got our first gift ahead of 2016's race for the White House on Monday.
Hailing from Houston, U.S. Senator Ted Cruz officially became the first 2016 presidential candidate at midnight with a Twitter announcement:
I'm running for President and I hope to earn your support! pic.twitter.com/0UTqaIoytP

— Ted Cruz (@tedcruz) March 23, 2015
The Princeton and Harvard Law grad later gave a rousing speech at Liberty University, making his announcement more formal. He was accompanied by his wife and two, adorable young daughters.
Speaking of Cruz's wife, though I'm a Texas resident I have not heard much about her. I looked her up today and was pleasantly surprised. She, too, is a Harvard grad and an accomplished businesswoman. #girlpower In order to support her husband on the campaign trail, she'll be stepping down as a managing director at Goldman Sachs in Houston.
Now with the announcement behind him, Cruz certainly has his work cut out for him. According to Real Clear Politics, he's in a dismal 8th place on a list of GOP presidential hopefuls. And, no stranger to controversy, he's got a lot of feathers to smooth out on both sides of the political aisle. Will he be able to rally the Independent voters too? I'm not convinced, but we shall see.
He's also going to have to learn to shoot straight. His PolitiFact Truth-O-Meter report card has a bit too many "Falses" on it for my taste.
Love him or hate him, one thing is certain — Cruz can talk. His 40-ish-minute speech was done entirely by memory/off-the-cuff. NO TELEPROMPTER. Wow. Kudos.