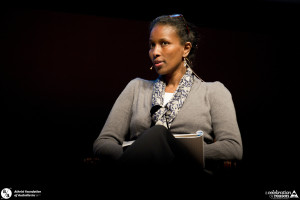 One of my goals with Rebekah Reports is to bring to light well-written, insightful, or sometimes controversial articles that I find across the Web and think you should see. I'm all for reading "what's out there" whether I agree with it or not, because I want to know what's being said. I guess you could call me "nosy."
Anyhoo — One such article I read this week is about Ayaan Hirsi Ali. I only recently heard of this woman, and think you should know about her too.
As this Politico opinion article states, Ali is the "perfect feminist hero." However, the author doesn't think she's getting the recognition from the main stream media she deserves because she's a dissident of Islam. It's definitely an interesting read, and Ali is definitely a courageous woman whether you agree with her or not. Anyone that looks death threats in the face and says, "Bring it," get the label of "courageous" in my book!
Related Video:
FOX's Megyn Kelly interviewed Ali this week about her new book "Heretic." You can watch their interview below.