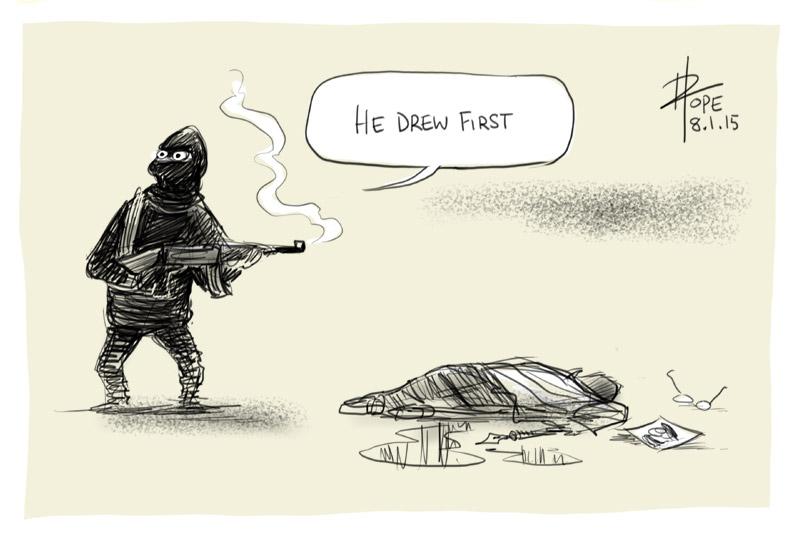 People around the world are gathering in solidarity after 12 people were killed and 11 injured in a terrorist attack in Paris, France Wednesday.
At least two masked gunmen entered the office of Charlie Hebdo, a satirical newspaper that, as Slate.com reports, has previously sparked controversy for its cartoon depictions of the Islamic prophet Mohammed.
One witness tweeted what he saw and heard. According to Vox.com, the man works near the Charlie Hebdo office. He says two gunmen entered the offices after originally going to the wrong offices, and took advantage of the mail carrier's arrival to get inside.
As the UN Secretary General described it, the attack was a "direct assault on a cornerstone of democracy – on the media and freedom of expression."
U.S. Secretary of State John Kerry also spoke Wednesday on the attacks.
They may wield weapons, but we in France and in the United States, share a commitment to something that is far more powerful. Not just a pen, but a pen that represents an instrument of freedom, not fear. Free expression and a free press are core values. They are universal values; principles that can be attacked but never eradicated because brave and decent people around the world will never give in," Kerry said.
According to Sky News, Kerry is a fluent French speaker and repeated his message in French. See more of his statement below.
As of this story's publishing, police are still searching for the gunmen responsible for this deadliest terror attack in the last 20 years. France's security level has been raised to its highest.
For more information, go here to see live updates on the aftermath of this terror attack from Sky News.
As the Telegraph reports, many are taking to Twitter to express their sympathy to the victims and their families and to show their support for freedom of expression. Many are using the hashtag #JeSuisCharlie, which is French for 'I am Charlie.' The hashtag began trending worldwide shortly after the shooting.
A tweet by Australian political cartoonist David Pope showing a cartoon pointing out the absurdity of the terror attack went viral Wednesday with more than 32,000 retweets at the time of this story's publishing.
Can't sleep tonight, thoughts with my French cartooning colleagues, their families and loved ones #CharlieHebdo pic.twitter.com/LqIMRCHPgK

— David Pope (@davpope) January 7, 2015